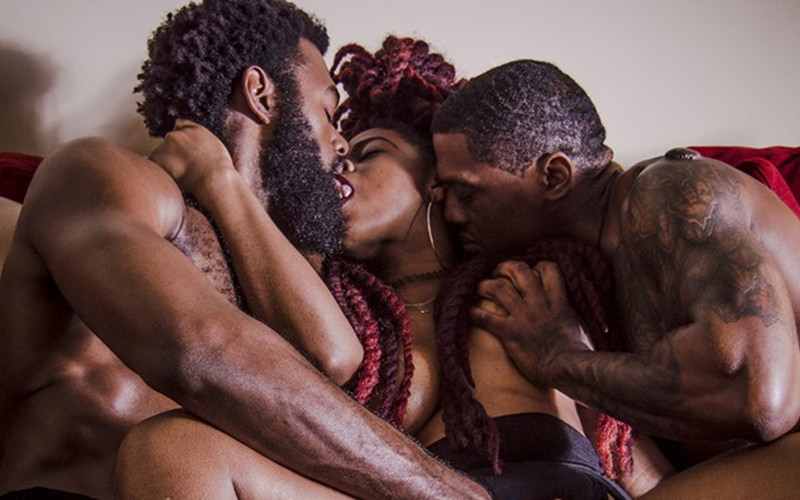 Are you looking to have a good time (and maybe catch a few STDs)? No, seriously? An Atlanta woman's upcoming birthday has gone viral figuratively, and possibly literally, if she's not careful.
Twitter was lit on Wednesday (Mar. 8) as #ATLOrgy began trending. The hashtag began after a woman named Cidney G revealed the theme and invitation for her 27th birthday party. Officially called "Total Liberation," Cidney's slumber party is actually an all-night orgy.
The online invitation states:
This event is nothing like you have ever attended. I was going to do just a regular 7 hour party but was NOT ENOUGH!

This is my 27th birthday and this overnight event will encompass everything I love and adore:

Great vibes, Good Ratchet Music, Amazing Food and Swangin Balls!

First thing's first:

SEX IS ALLOWED! And nudity is 100% encouraged! There will be no place where you will get the urge to get frisky and can't! There will be lots of ass, moans of pleasure and of course …watching.

This is all about FREEDOM and reconnecting to the carefree part of who you are. That's why this is a slumber party in a place where you can drink, dance, fuck, pass out then sleep in late!

I want this event to be the place where you make your sexual fantasies come true.
The swinger's slumber party will take place at a secret location in Atlanta on March 18-19. Only people who have RSVP'd and paid will know the location 48 hours in advanced.
Oh yes, you gotta pay to catch at STI at this party. It's $99.99 for single women, $175 for single men and $175 for couples.
Originally planned for 35 people, Cidney claims the party has already sold out twice and she had to move the event to a larger venue to accommodate the growing number of attendees.
Twitter of course had fun with the #ATLOrgy hashtag.
You will walk in to #ATLOrgy looking like this and wake up the next morning lookin like pic.twitter.com/ms8QEui8bm

— JohnMgbemena (@1youngcaesar) March 9, 2017
When you log into twitter and see #ATLOrgy is trending pic.twitter.com/s9rK69sqVx

— fleur delacour ? (@postbadposts) March 9, 2017
The city of Atlanta after #AtlOrgy pic.twitter.com/GbeKa9yyY6

— X (@Sxpremacy) March 9, 2017
#ATLOrgy y'all stay positive down there in the A! pic.twitter.com/k5s1JksXko

— ?Pettimus Prime? (@TheyCallMeSoopa) March 9, 2017
Yo this question got me on the floor ???? #ATLOrgy pic.twitter.com/XvRcxj43Qm

— Comeaux (@Listen2Tony) March 9, 2017
You gone handle aids, hiv, chlamydia, gonorrhea, herpes, bumps, lumps goin to #ATLOrgy pic.twitter.com/Pbu9QjwzPX

— Dream Chaser (@majordreamzz) March 9, 2017
Your WCW leaving the #ATLOrgy with her mementos pic.twitter.com/EMjP4KOOf0

— ?h?rst??øekãgé® (@JudusMaximus) March 8, 2017
This how most of y'all are gonna be after #ATLOrgy pic.twitter.com/39wYvXD2th

— KOSHER (@JRAN_76) March 8, 2017
Your girl said she was going on a girls trip to ATL, you see the orgy flyer & the -$99 transaction in your account: pic.twitter.com/D8uHjVdvds

— bee (@BlearBear) March 8, 2017
Lmao RT @papichuIo: After y'all get home from that #ATLOrgy pic.twitter.com/Dr6MROWL4F

— Peela ?? (@therealpeela) March 8, 2017
When your at the #atlorgy and your condom breaks pic.twitter.com/VOpTsDNnbx

— Sean P (@ComedianSeanP) March 9, 2017
#ATLOrgy pic.twitter.com/qoeNCtzXjw

— sisyphus (@rolandt82180867) March 10, 2017
When you come out of the #ATLOrgy Brunch lol pic.twitter.com/goG0cecei7

— Hacksaw Jim Thuggin (@JustSayWordsPod) March 10, 2017
Do I even wanna know the context of #AtlOrgy or should I just let Atlanta be Atlanta right now? pic.twitter.com/PvwjUhhNIZ

— NAYWHOOOOO (@theuppitynegro) March 10, 2017
Why did I click on #atlorgy that's what I get for being nosey smh

— Natalie Teixeira (@kriola_fofa617) March 10, 2017
With all the STD/HIV/AIDS jokes aside, Cidney is promoting safe sex. Condoms will be provided and those attending are encouraged to bring their own as well. Payment for sex of any kind will not be permitted and security will also be present to ensure safety.
To anyone actually going to this "party," stay safe and, I guess, have fun. For the rest of us, let's just enjoy the Twitter memes!
#ATLOrgy Takes Over Twitter After Atlanta Woman Announces All-Night Orgy to Celebrate Her 27th Birthday is a post from: Gossip On This – Pop Culture, News, Videos & Humor

#ATLOrgy Takes Over Twitter After Atlanta Woman Announces All-Night Orgy to Celebrate Her 27th Birthday
#
#
#
#
This was first posted on: http://feeds.gossiponthis.com/gossiponthis
Disclaimer:
None of the posted news above is confirmed by TopmostViewed.com – If you want sent a complaint for removal then we are more than happy remove the post. All posts are automatically imported from only high reputation websites and they have been given the proper credit above.