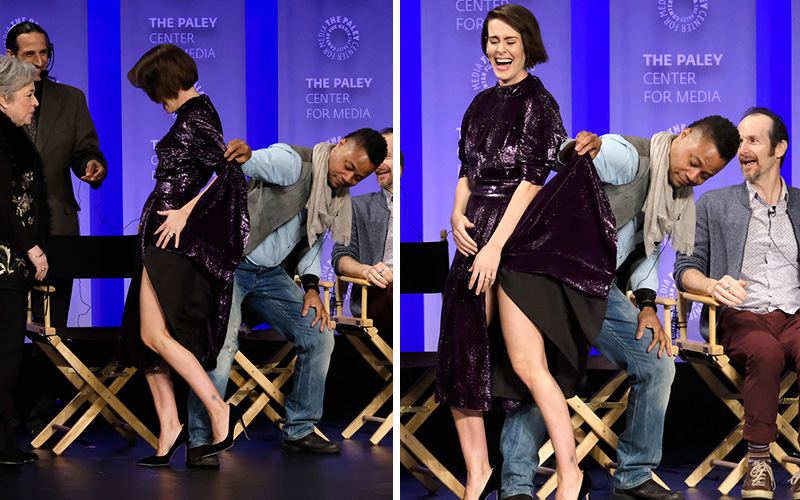 At Los Angeles PaleyFest on Sunday (Mar. 26), the cast of American Horror Story took to the stage to discuss last year's "Roanoke" season, but people aren't talking about the discussion so much as what Cuba Gooding Jr. did while onstage.
As Sarah Paulson introduced Kathy Bates to the stage, Gooding decided that it was the perfect time to take a peek underneath Paulson's dress. A video shows him lifting the dress up as Paulson and Bates smile at the crowd, causing Paulson to quickly recoil and force the dress back down.
Sarah Paulson introducing Kathy Bates….. name a better friendship pic.twitter.com/B8Q15b09tX

— p.c ? (@90sIover) March 27, 2017
Okay, yes I went back to screenshot this. But does he seriously think this is okay? @cubagoodingjr @MsSarahPaulson pic.twitter.com/xHEnURhY3H

— Elle ?? (@Heavenly_Sarah) March 27, 2017
Paulson laughed it off and everything went about as normal after the strange moment, but, as the internet is prone to do, the incident didn't end there. As word spread of what happened, reactions began to flow in on social media and, spoiler alert, people aren't too happy with ole Cuba.
I think Cuba Gooding Jr hair cut is punishment enough for his behavior.Why is he dressed like a hipster gladiator? #CubaGoodingJr

— Victor Steele (@BlackHannibal) March 27, 2017
Take a lesson from cele and keep your hands off her skirt and protect her from creepy fans like a real friend would @cubagoodingjr https://t.co/rEYovMc2RL

— kyra | 0 (@spfeed1974) March 27, 2017
Cuba Gooding Jr. has just embarrassed himself at #AHS Paleyfest. This is junior high behavior. Leave the women alone https://t.co/wdMdJR161O

— Margaret Holt (@chicagomargaret) March 27, 2017
Um… so is @cubagoodingjr allowed to get away with lifting @MsSarahPaulson skirt at @paleycenter? Total disrespect to a woman

— WinterThreds (@piratepenzan) March 27, 2017
How would @cubagoodingjr react if a man walked up to his daughter, Piper and lifted her dress up behind her back? #itsneverok

— SallyThatTwirl (@SupremelyOne) March 27, 2017
@cubagoodingjr hi, dude. did you apologize to Sarah? you should if you didn't bc what you did was Gross and Disrespectful

— kommissar (@choirgirI) March 27, 2017
What happened to Sarah Paulson yesterday at #PaleyFest was so disrespectful and definitely NOT OK or funny ??

— Rebecca O'Keeffe (@RebeccaOkeeffe5) March 27, 2017
@cubagoodingjr Maybe a joke between friends but, it's disrespectful. pic.twitter.com/gSEiIMaZwz

— Winner baby girl ? (@sarahnossin) March 27, 2017
Now whether or not Cuba Gooding, Jr. is even aware of the Twitter-storm his actions have caused is unclear. Following only 12 people and sending out a grand total of 22 Tweets, he's clearly not the most active individual on social media.
Paulson and Gooding have worked together a lot recently, playing husband and wife on Season 6 of American Horror Story as well as co-starring in The People vs. OJ Simpson. Neither have commented on the incident nor the backlash it has received.
Cuba Gooding Jr. Sparks Twitter Outrage After Lifting Sarah Paulson's Dress On Stage is a post from: Gossip On This – Pop Culture, News, Videos & Humor

Cuba Gooding Jr. Sparks Twitter Outrage After Lifting Sarah Paulson's Dress On Stage
#
#
#
#
This was first posted on: http://feeds.gossiponthis.com/gossiponthis
Disclaimer:
None of the posted news above is confirmed by TopmostViewed.com – If you want sent a complaint for removal then we are more than happy remove the post. All posts are automatically imported from only high reputation websites and they have been given the proper credit above.