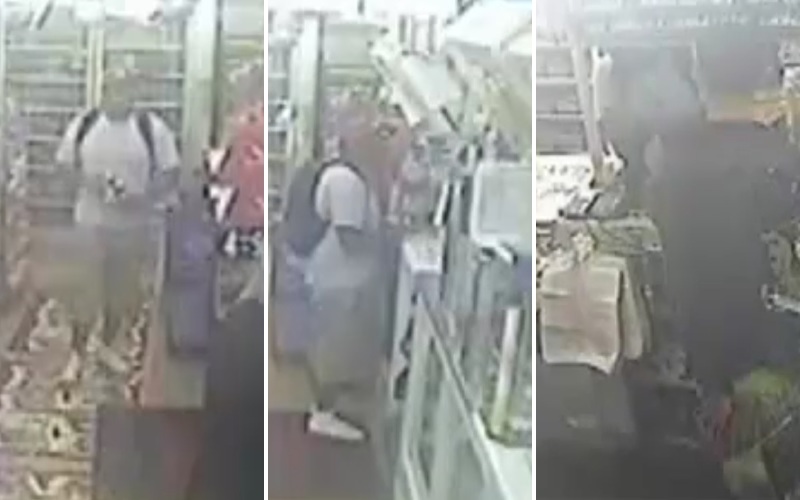 Newly released video footage of Michael Brown's final hours may cast even more doubt on speculation that he robbed a convenience store prior to being murdered by a Ferguson, Missouri police officer.
Security footage from Ferguson Market and Liquor Store (Ferguson Mart), previously unreleased to the public, was shown in the new documentary, Stanger Fruit, which debuted Saturday (Mar. 11) at the South by Southwest (SXSW) festival. Director Jason Pollock says the new footage proves Brown did not rob the convenience store, which has been reported/suggested and many were led to believe.
St. Louis County Prosecuting Attorney Bob McCulloch was made aware of the footage a week after Brown was killed but stated Monday (Mar. 13) that it was "not relevant or material" to Brown's death. McCulloch also says Pollock's footage is a work of a "very poor job of editing."
Captured 11 hours before Brown was shot and killed, the footage released by Pollock shows the teen placing a bag on the counter at the convenience store. Two clerks smell it and then gives Brown a bag containing a box of cigarillos. He begins to walk away, but then gives the cigarillos back to the clerks.
Pollock says it is known that some Ferguson Mart clerks are willing to barter and trade, even with marijuana. "This is a shady store. We've asked a lot of people in this community. You can buy weed at the store," he told CNN.
Pollock theorizes Brown bartered with the young clerks with weed and attempted to retrieve his items later in the day. However, the older clerk was unaware (or did not approve) of the exchange and the physical confrontation that was wildly broadcast in 2014 aided in the narrative that Brown robbed the store.
Alongside Pollock, Brown's father, Michael Brown Sr., says the video proves his son "was not in the wrong" and would like the case to be reopened. He said in an interview:
"I just want the public to know that he wasn't … a bad guy, how bad they actually demonized his name and the family because of what they showed. I'm just happy that the public can see… with their own eyes."
McCulloch says no barter or trade actually took place. He told CNN:
"There was certainly an attempt to barter for these goods but the store employees had no involvement at all in that. When [Brown] left, they put everything back on the counters where they belonged and went about their business. There was no transaction between Mr. Brown and the store employees."
One of the clerks working the night captured in the new footage has also revealed to CNN that no trade occurred. He says he told Brown that the store didn't barter and Brown "just grabbed the cigarillos and tried to leave." The clerk, who refused to appear on camera, added "[Brown] left with nothing. I took back everything."
McCulloch's office has since released the full raw 9-minute footage of the night in question. Jay Kanzler, the attorney to Ferguson Mart has also released video footage. He stands by his clients and says the video footage shows the clerks giving the alleged bag of weed back to Brown.
The Ferguson Police Department also maintains that the this "new" footage is/was irrelevant to the case because officer Darren Wilson had no knowledge of a robbery prior to his initial encounter with Brown. Wilson became aware of Brown's possible connection with a robbery only after he had already pulled the teen over for walking in the street.
Newly Released Footage May Prove Michael Brown Did NOT Rob Convenience Store, Prosecutor Says Video Isn't Relevant is a post from: Gossip On This – Pop Culture, News, Videos & Humor

Newly Released Footage May Prove Michael Brown Did NOT Rob Convenience Store, Prosecutor Says Video Isn't Relevant
#
#
#
#
This was first posted on: http://feeds.gossiponthis.com/gossiponthis
Disclaimer:
None of the posted news above is confirmed by TopmostViewed.com – If you want sent a complaint for removal then we are more than happy remove the post. All posts are automatically imported from only high reputation websites and they have been given the proper credit above.