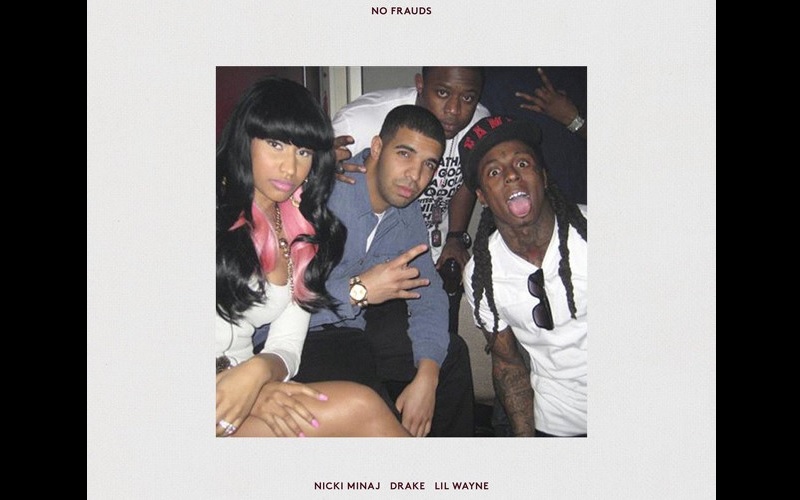 The wait is finally over! After reports suggested Nicki Minaj had no intention of responding to Remy Ma's diss track, the Pinkprint rapper comes through and surprisingly drops 3 new songs.
On Thursday night (March 9), Minaj tweeted #3PackFromParis and released "Regret in Your Tears," "Changed It," and "No Frauds." The latter two songs feature Lil Wayne and Drake and were recorded while the three recently reunited in Paris.
However, it's "No Frauds" that became the No. 1 trending topic because Minaj finally responds to Remy's diss track "shETHER." It seems Minaj was just waiting for the right time to unleash. She jumped on the opportunity as Remy's follow-up diss, "Another One," failed to receive as much respect and praise as her initial effort.
Minaj goes in on "No Frauds." She gives a nod to the Remy's failed track and even brings up Remy's 8-year stint in jail for shooting a member of her entourage.
Notable "No Frauds" lyrics:
You can't be Pablo if your work ain't sellin'
What the f*ck is this b*tch inhalin'?
I would've helped you off that pit you fell in
I am the generous Queen! Ask Ms. Ellen
Tried to drop "Another One", you was itchin' to scrap
You exposed your ghostwriter, now you wish you were scrapped
Heard your p*ssy on "Yuck," I guess you needed a pap
What type of bum b*tch shoot a friend over a rack?
What time of mother leave her one son over a stack?
Lil biddy down basic b*tch thinkin' she back
Back to back, oh you mean, back to wack?
"Back to Back"? Me and Drizzy laughed at that
They say numbers don't matter
But when they discussin' the kings
They turn around and say Lebron ain't got 6 rings
I never signed a 360, b*tch you wild dumb
That's why Jay ain't clear his verse for your album
Shanaynay, you a fraud committin' perjury
I got before and after pictures of your surgery
LISTEN HERE:
Though a solid effort, it could be a little too late for Nicki to claim a win in one of the greatest rap feuds in recent years. The track has received mixed reactions on Twitter with many opining only Minaj's Barbz will enjoy "No Frauds."
When I was listening to shEther I was SWEATING lmao No Frauds only got a smooth head bop out of me I'm sorry.

— Daddy (@drefamous) March 10, 2017
#TheBig3 #NoFrauds #RegretInYourTears #ChangedIt #NickiMinaj @NICKIMINAJ
Everyone: Nicki isn't going to respond to remy
Nicki: pic.twitter.com/sUn4FFsz68

— El Camino (@keyawnce) March 10, 2017
It should've been Nicki straight dragging remy the whole No Frauds and the big 3 on a diff song

— ? (@terrrryjr_) March 10, 2017
ONIKA TANYA MARAJ came w/ facts on #NoFrauds , had ONE verse & still KILLED remy ma's 7min track. THE RECEIPTS!! @NICKIMINAJ pic.twitter.com/bUXF8Lo0Oa

— she (@goafgang) March 10, 2017
Let's put it like this….

Shether = 7 minutes of Bars, Lies and misogyny

No Frauds = 1 minutes of Facts/Flow/Consistency

— lil ugly ? (@zeefromhtx) March 10, 2017
Nicki Minaj Dissssssssssss? knew she was bouncing backkkk???? @NickiMinaj

— M.Dö??a? (@MooDollas_) March 10, 2017
Me after hearing No Frauds x Nicki Minaj feat. Drake, Lil Wayne pic.twitter.com/VS5CBW2fgv

— Mr. Roundtable (@dj_rocklee) March 10, 2017
"No Frauds" is not a diss track
"No Frauds" is not a diss track
"No Frauds" is not a diss track
"No Frauds" is not a diss track

— R e c h a r g e d (@Its__travis) March 10, 2017
The gag is "No Frauds" is #1 already on iTunes ????? pic.twitter.com/4T5elRYCwI

— Xoxo, Nikki? (@hugskissesnikki) March 10, 2017
Okay Nicki you get a C+ for No Frauds you was suppose to turn that Homework in a long time ago & you made it a group project ??

— Stress Free Obama (@ishot_ricky) March 10, 2017
No Frauds is a catchy song but a trash response, fact

— Esobar ? (@HoelessZeus) March 10, 2017
No frauds a decent diss but it's a better song/club record than diss

— Gabriel (@kellermanng_) March 10, 2017
You can buy all three songs on iTunes:
Nicki Minaj Finally Responds to Remy Ma's Diss, "No Frauds" Feat. Lil Wayne & Drake Receives Mixed Twitter Reactions is a post from: Gossip On This – Pop Culture, News, Videos & Humor

Nicki Minaj Finally Responds to Remy Ma's Diss, "No Frauds" Feat. Lil Wayne & Drake Receives Mixed Twitter Reactions
#
#
#
#
This was first posted on: http://feeds.gossiponthis.com/gossiponthis
Disclaimer:
None of the posted news above is confirmed by TopmostViewed.com – If you want sent a complaint for removal then we are more than happy remove the post. All posts are automatically imported from only high reputation websites and they have been given the proper credit above.