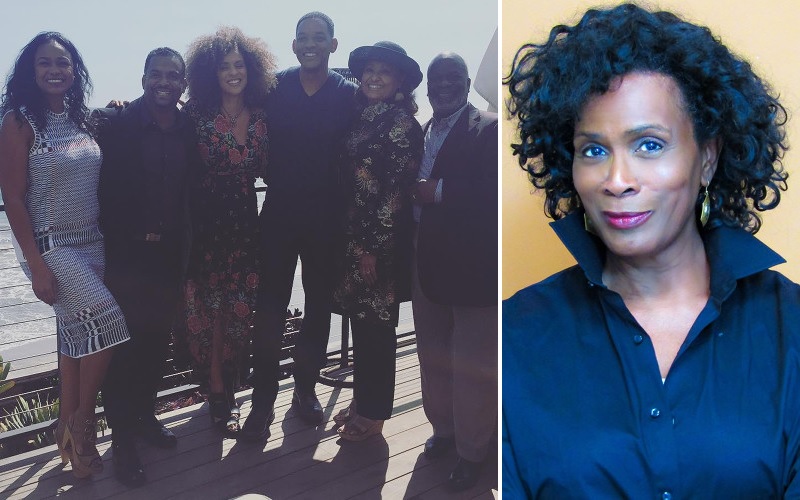 The original Aunt Viv is tired of you sending her that "Fresh Prince" reunion photo. Janet Hubert has finally responded to the viral photo that she was unsurprisingly not featured in, and she responded exactly how you expected.
As you may know, the cast of The Fresh Prince of Bel-Air, including Will Smith, reunited earlier this week and posed for a photo.
Noticeably missing was James Avery (who died in 2013) and Hubert. Alfonso Ribeiro posted the pic on Instagram. Though he included Avery in the caption, there was no mention of Hubert.
The original (and more iconic) Aunt Viv addressed the "so-called reunion" in a gloriously shady Facebook post. She called Ribeiro a "media hoe," and says there will never be real Fresh Prince reunion because she has "no interest in seeing any of those people on that kind of level."
I know the media hoe Alphonso Ribero has posted his so called reunion photo. Folks keep telling me about it. He was always the ass wipe for Will. There will never be a true reunion of the Fresh Prince. I have no interest in seeing any of these people on that kind of level.

I am not offended in the least, by this photo… it was an event for Karen's charity. It does however prompt me to take some meetings in Hollywood to pitch my memoir PERFECTION IS NOT A SITCOM MOM, and tell of the behind the scenes story before I leave this earth.
Ryan Murphy's latest new show, Feud, chronicles Hollywood's most notorious feuds. The Smith/Hubert/Ribeiro debacle should definitely be more than enough material and drama for season 2 because this 23-year-long feud is still going strong.
Hubert starred as the classic 90's show's matriarch for three seasons. However, she was fired and replaced due to her acrimonious relationship with Smith (and Ribeiro). Never one to mince words, their feud continues to this day.
She was even in a social media war with Smith's wife Jada Pinkett Smith in 2015 after the A-List couple refused to attend the Academy Awards during the #OscarsSoWhite controversy.
I hope Hubert is taking several meetings with publishers because we need that tell-all memoir now!
Original Aunt Viv Shades "Fresh Prince" Reunion, Calls Alfonso Ribeiro A "Media Hoe" & Shares Plans for Juicy Tell-All Memoir is a post from: Gossip On This – Pop Culture, News, Videos & Humor

Original Aunt Viv Shades "Fresh Prince" Reunion, Calls Alfonso Ribeiro A "Media Hoe" & Shares Plans for Juicy Tell-All Memoir
#
#
#
#
This was first posted on: http://feeds.gossiponthis.com/gossiponthis
Disclaimer:
None of the posted news above is confirmed by TopmostViewed.com – If you want sent a complaint for removal then we are more than happy remove the post. All posts are automatically imported from only high reputation websites and they have been given the proper credit above.