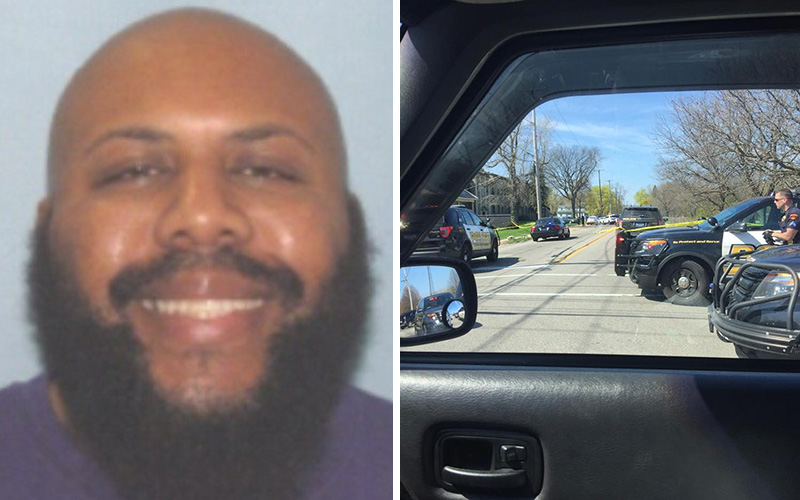 The man wanted for murdering a 74-year-old man in Cleveland, Ohio and uploading the video to Facebook on Easter Sunday has been found dead of an apparent suicide inside a car in Erie, Pennsylvania Tuesday (Apr. 18).
Car of Facebook killing suspect Steve Stephens in Erie after he shot and killed himself following police manhunt https://t.co/y8fyjqqdXR pic.twitter.com/WOf0BeAFnV

— NBC10 Philadelphia (@NBCPhiladelphia) April 18, 2017
Pennsylvania State Police have confirmed that the man found in the car, a white Ford Fusion, was Steve Stephens. According to reports, Stephens died of a self-inflicted gunshot wound just after 11 a.m. Tuesday morning.
Pennsylvania State Police said they spotted Stephens Tuesday morning, and following a brief pursuit, he "shot and killed himself."
Steve Stephens was spotted this morning by PSP members in Erie County. After a brief pursuit, Stephens shot and killed himself.

— PA State Police (@PAStatePolice) April 18, 2017
Police have been looking for the behavioral therapist and former youth mentor, also known as "Stevie Steve," since Easter Sunday (Apr. 16) after he randomly walked up to 74-year-old Robert Godwin Sr., shot and killed him, and posted a video of the gruesome act on Facebook.
Mr. Godwin, a father of 10, grandfather of 14 and also a great grandfather, was collecting aluminum cans when he was approached by Stephens, who said he was committing the murder because he was angry at his ex-girlfriend Joy Lane.
Stephens also claimed that he had murdered numerous other people in what he described as an "Easter Sunday Massacre," however, police never found any evidence of additional victims.
Cleveland Police Chief Calvin Williams said that Pennsylvania Police quickly responded Tuesday morning after receiving a tip that Stephens' white Ford Fusion was spotted in an Erie McDonald's parking lot.
When police arrived at the scene, Stephens fled and a brief chase ensued. He pulled over, and as officers approached the vehicle, he committed suicide. Officials haven't provided any details on how Stephens killed himself, though it's believe that he shot himself.
"We would have preferred that it didn't end this way," Williams said. Cleveland FBI Special Agent Steve Anthony said that the goal was to bring Stephens in alive, but, "unfortunately, that was not the case."
Steve Stephens: Facebook Video Murder Suspect Found Dead, Killed Himself in Erie County Pennsylvania is a post from: Gossip On This – Pop Culture, News, Videos & Humor

Steve Stephens: Facebook Video Murder Suspect Found Dead, Killed Himself in Erie County Pennsylvania
#
#
#
#
This was first posted on: http://feeds.gossiponthis.com/gossiponthis
Disclaimer:
None of the posted news above is confirmed by TopmostViewed.com – If you want sent a complaint for removal then we are more than happy remove the post. All posts are automatically imported from only high reputation websites and they have been given the proper credit above.