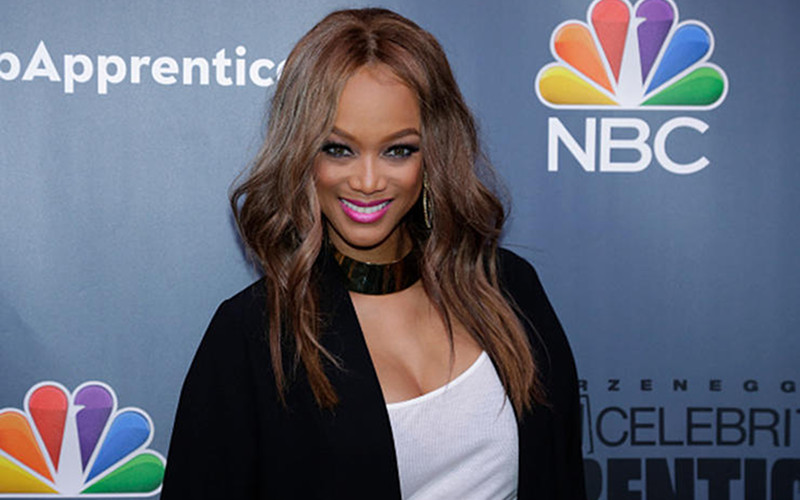 It's official; Nick Cannon is really no longer the host of America's Got Talent. However, despite rumors and suggestions of who may replace the comedian, NBC has already named the show's new host: Tyra Banks.
AGT judge Howie Mandel announced the news and welcomed the former supermodel to the family on Twitter.
Please welcome @TyraBanks to the @NBCAGT family! She's our new host. #TyraBanks #AGT pic.twitter.com/JFebSVqUqC

— Howie Mandel (@howiemandel) March 12, 2017
Banks also shared the news on Snapchat and Instagram.
Names such as Marlon Wayans and Ryan Seacrest were rumored to be on the short list of hosting season 12 of the reality competition show, which is slated to begin production next month. However, Banks may have landed the gig as she is currently on the NBC reality show roaster. She served as an adviser to Arnold Schwarzenegger on The New Celebrity Apprentice.
Banks is also no stranger to hosting. She hosted the original incarnation of America's Next Top Model for 13 years. She has also hosted two daytime talk shows, including the Emmy Award winning The Tyra Banks Show.
Though the model has established herself as an entertaining television personality, is she right for America's Got Talent? I've never seen the show, so I can't really say. But while I think she will engage and connect with the contestants, Tyra Banks was the very last person I would expect to replace Nick Cannon.
Cannon abruptly quit the show in February after he claimed NBC tried to punish him for a racially charged joke he made at the expense of the network during his Showtime stand-up special. He hosted the show for eight years, longer than any other host in the show's history.
With Banks as host, she will be joined by Mandel, Simon Cowell, Mel B, and fellow former supermodel, Heidi Klum, at the judges' table.
Tyra Banks Replacing Nick Cannon As "America's Got Talent" Host After Comedian Abruptly Quit is a post from: Gossip On This – Pop Culture, News, Videos & Humor

Tyra Banks Replacing Nick Cannon As "America's Got Talent" Host After Comedian Abruptly Quit
#
#
#
#
This was first posted on: http://feeds.gossiponthis.com/gossiponthis
Disclaimer:
None of the posted news above is confirmed by TopmostViewed.com – If you want sent a complaint for removal then we are more than happy remove the post. All posts are automatically imported from only high reputation websites and they have been given the proper credit above.