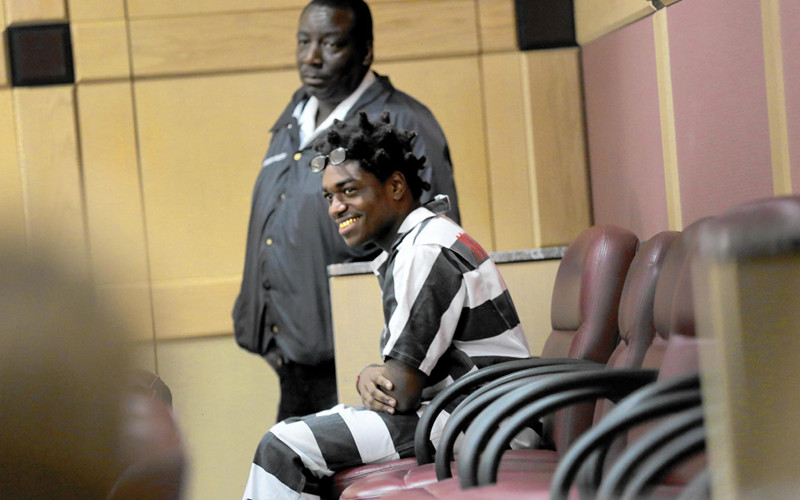 Even while sitting in jail, Kodak Black's run-ins with the law continue. A woman has just come forward and claimed the rapper assaulted her earlier this year. The battery allegation has been added to a list of ways Kodak has allegedly violated his probation.
The 34-year-old woman accusing Kodak works at Club Climaxx, a strip club in Miami. According to the police report, she claims the rapper "approached her and started acting belligerent." She first reacted by telling him to back away, however, this is when she says he "hit her in the forehead with his arm."
The situation quickly escalated after she pushed the 19-year-old away. The woman claims "he began to punch her numerous times all over her body and then kicked her, stopping shortly after."
The incident occurred around 3 a.m., the woman finished her shift that night and contacted the police at the start of her next shift at 8 p.m.
Though no charges have been filed yet, the case is listed as "open/pending" and has been assigned to a detective. If charged, the offense would be misdemeanor battery.
Kodak also had to appear in court on Tuesday (Apr. 4) regarding the matter as the Florida Department of Corrections has added the incident to a list of ways the rapper violated the terms of his house arrest.
He was arrested on Feb. 28 after his probation officer accused him of four violations of his house arrest. This also included an unauthorized visit to Club Climaxx, though the battery allegation was not yet a factor. He has been in the Broward Main Jail since his arrest. Two additional probation violations were also added in March.
Kodak's violation hearing is scheduled for April 19.
Woman Claims Kodak Black Punched & Kicked Her in Strip Club, Allegation Added to Rapper's Probation Violations is a post from: Gossip On This – Pop Culture, News, Videos & Humor

Woman Claims Kodak Black Punched & Kicked Her in Strip Club, Allegation Added to Rapper's Probation Violations
#
#
#
#
This was first posted on: http://feeds.gossiponthis.com/gossiponthis
Disclaimer:
None of the posted news above is confirmed by TopmostViewed.com – If you want sent a complaint for removal then we are more than happy remove the post. All posts are automatically imported from only high reputation websites and they have been given the proper credit above.