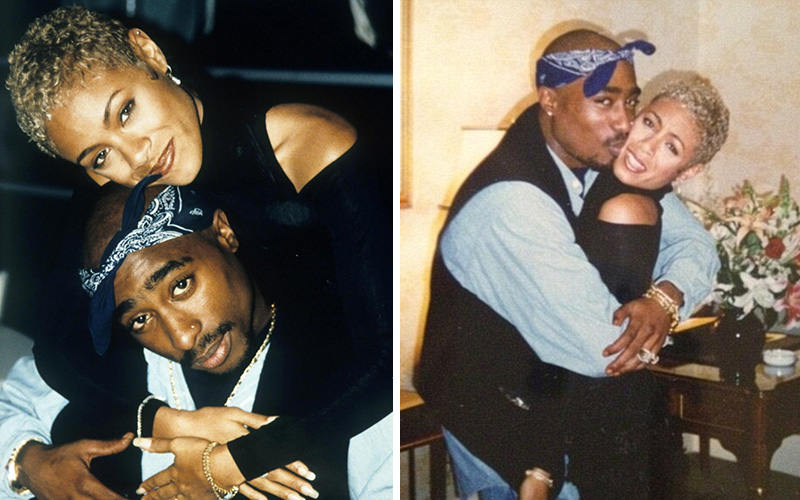 Today is a big day for Tupac fans. Not only is it what would have been the rap legend's 46th birthday, but it's also the official release date for his highly anticipated new biopic "All Eyez On Me."
The film (starring Demetrius Shipp Jr. in the title role) follows Tupac Shakur's life and legacy, including his meteoric rise to superstardom, as well as his imprisonment, and time under the controversial rap label Death Row Records.
The movie — directed by Benny Boom — also touches on his relationship with actress Jada Pinkett-Smith (FYI: She dated Pac before meeting her now husband Will Smith), however, Smith is far from happy about how her relationship with Shakur is portrayed.
In a series of tweets (and a post on Facebook), Smith called the movie "deeply hurtful" and slammed it for its inaccurate portrayal of their time together. In fact, one scene in particular, in which he read a poem to her (something she said NEVER happened), really hit a nerve for the actress.
"Forgive me… my relationship to Pac is too precious to me for the scenes in All Eyez On Me to stand as truth," she said. "Pac never read me that poem. I didn't know that poem existed until it was printed in his book."
Smith added, "Pac never said goodbye to me before leaving for LA. He had to leave abruptly and it wasn't to pursue his career. I've never been to any of Pac's shows by his request. We never had an argument backstage. The reimagining of my relationship to Pac has been deeply hurtful."
Jada, who is played in the film by Kat Graham, made sure to let the actors in the movie know that her beef wasn't with them and thanked them for "bringing so much heart and spirit" to their roles. "You both did a beautiful job with what you were given. Thank you both," she said.
Read her full post (via Facebook) below:
Jada Pinkett-Smith isn't the only one who has a negative opinion about "All Eyez On Me."
NY Times film critic Glenn Kenny called the movie "uniformly uninspired," while Katie Walsh, a film critic for the L.A. Times, described the biopic as a "muddled vision of Tupac."
Jada Pinkett-Smith Slams "Deeply Hurtful" Tupac Biopic 'All Eyez On Me' is a post from: Gossip On This – Pop Culture, News, Videos & Humor

Jada Pinkett-Smith Slams "Deeply Hurtful" Tupac Biopic 'All Eyez On Me'
#
#
#
#
This was first posted on: http://feeds.gossiponthis.com/got_movies
Disclaimer:
None of the posted news above is confirmed by TopmostViewed.com – If you want sent a complaint for removal then we are more than happy remove the post. All posts are automatically imported from only high reputation websites and they have been given the proper credit above.